REEDYCJA "SUICIDE SALVATION" BLACK ALTAR

Odium Records zapowiada Pre order reedycji mini albumu "Suicidal Salvation" wzbogaconego o 4 bonusowe utwory ze splitu z Varathron / Thornspawn. Materiał ukaże się na 8 panelowym digipacku, po raz pierwszy na vinylu, (czerwony, ciężki 180 gr gatefold limitowany do 250 sztuk) oraz jako drewniany boks, limitowany do 50 sztuk.

Boks zawiera:
- 350gm gatefold, ciezki 180gr Lp, biało krwisty splatter, dostępny tylko z boksem
- 8 panelowy digi pack.
- 2 stronny, brązowy t-shirt
- 2 stronny drewniany naszyjnik z logo Black Altar i Sigilem na odwrocie
- naszywkę
- naklejkę
- metalową wpinkę
Pre order na płyty i koszulkę można złożyć na: www.odiumrex.com/webshop
Premiera płyty przewidywana na drugą połowę stycznia.
Materiału "Suicidal Salvation" można przesłuchać tu:http://youtu.be/khfnLBb57Ng

NOWY NUMER "BURNING MAGAZINE" JUŻ W STYCZNIU!

Debiutancki numer BURNING MAGAZINE w języku angielskim ukaże się 21 stycznia. Na okładce znajduje się nasz rodzimy BLACK ALTAR, a w numerze zobaczymy wywiady z takimi tuzami jak KING DIAMOND, BLASPHEMY, VARATHRON, BELPHEGOR, ARCHGOAT, MYSTIFIER, GOATPENIS i inne.
Video: ZOBACZ
Zamówienia można składać tylko prze email: burningmetalmag@gmail.com.
facebook.com/BurningMagazine

CHRIST AGONY - REEDYCJA "DARKSIDE" W OLD TEMPLE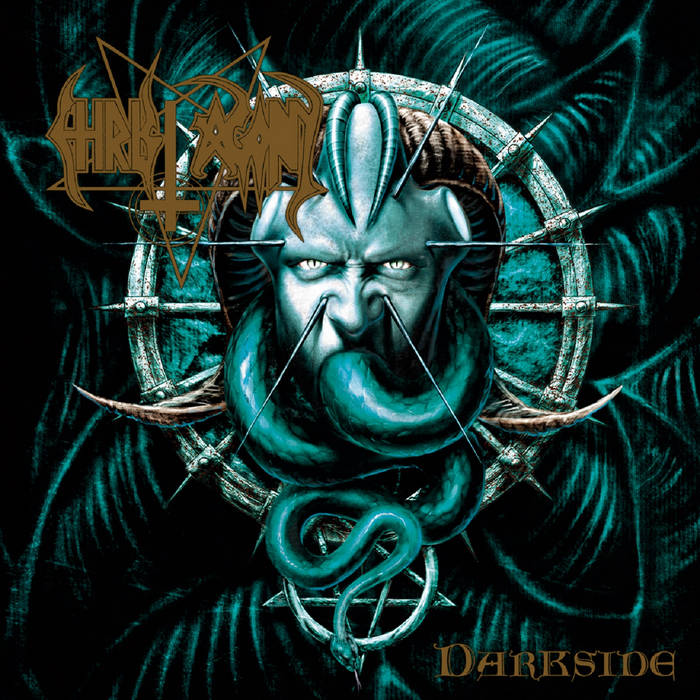 Drugi akt współpracy z Christ Agony odsłania album Darkside. Pierwotnie wydany w 1997 roku wywołał niemałe zamieszanie przedstawiając inne oblicze zespołu. Black Metal tym razem został połączony z duża dawką elektroniki i dark ambient. Nie ma to jednak wpływu na odbiór muzyki którą w dalszym ciągu przenosi nas w mroczne mistyczne rejony. Album został wydany z dodatkowym CD pod nazwą Darkness która zawiera niepublikowane nagrania z sesji lub przygotowań do sesji. Dziewięć dodatkowych nagrań z których cześć został ponownie nagrana, zrekonstruowana, odtworzona ze starych zapisów. To dodatkowe 50 minut które doskonale wzbogaca i uzupełnia mroczną aurę albumu. Wydanie w standardowym pudełku, dwa złote CD, wszystkie kopie ręcznie numerowane.
Data wydania: 10.11.2018
Format: 2 x złoty CD
Nakład: bez limitu
Odsłuch : https://oldtemple.bandcamp.com/album/christ-agony-darkside
Zakup : https://www.shop.oldtemple.com/christ-agony-darkside-2-cd-p-1348.html


Wraz z nadejściem przesilenia wiosennego, premierę miał trzeci album Zmora "Czarne Otchłanie i Martwe Cienie". Black metal w starej, klasycznej formie uwalniający zapomniane duchy, niosący dawną pieśń ciemnych lasów. Płyta do nabycia w Werewolf Promotion". facebook.com/WerewolfPromotion
PSYCHOFILIA 2017 MINI TOUR

PSYCHOFILIA Mini'Tour 2017 z udziałem BOTTOM i STRAIGHT HATE w kwietniu.

Po małych roszadach chcieliśmy potwierdzić skład koncertów oraz oficjalnie na nie zaprosić ;). Mówimy o weekendzie 28-29-30.04.2017 (odpowiednio Rzeszów, Katowice, Wrocław). Okazją do koncertowania jest premiera trzeciego pełnego albumu Bottom "Psychofilia" ktorego data wydania wyznaczona została na 28.04.2017. Na wszystkich trzech koncertach zagra Bottom i Straight Hate natomiast w każdym mieście skład będzie poszerzony o zaproszonych gości. Gościem specjalnym w Katowicach będzie Psychoneurosis (wartym odnotowania jest fakt, że będzie to pierwszy koncert po 15 letniej przerwie).

Szczegóły oraz linki do wydarzeń poniżej.
28.04.2017. Rzeszów, Klub Vinyl, godz. 19.00, cena biletu: 20 zł.
Straight Hate / Rotengeist / Bottom / Psycho Visions
https://www.facebook.com/events/1191196104311827/

29.04.2017. Katowice, Pub Korba, godz. 18.00, cena biletu: 20 zł.
Bottom / Psychoneurosis / Straight Hate / Rotengeist / Underule
https://www.facebook.com/events/619761408148461/

30.04.2017. Wrocław, Klub Muzyczny Liverpool, godz. 19.00, cena biletu: 20 zł.
Bottom / Offence / Straight Hate / Torched
https://www.facebook.com/events/234396313677986/
SPLIT NA XX-LECIE BLACK ALTAR

Odium Records zapowiada na koniec roku split norweskiego Beastcraft z Black Altar, który obchodzi w tym roku XX lecie działalności. Płyta ukaże się jako digi cd i ok 2 miesiące później gatefold Lp i limitowany do 50 sztuk drewniany box z cd, vinylem, 2 t-shirtami, naszywką, znaczkiem, plakatami i wieloma rarytasami z całego okresu istnienia Black Altar. W materiale Black Altar gościnnie wzięli udział muzycy Vader, Ondskapt, Acherontas i Beastcraft. Tracklista BLACK ALTAR -1.INTRO, 2.TOPHET, 3.WINDS OV DECAY, 4.PENTAGRAM SACRIFICE (Beastcraft cover), 5.OUTRO; BEASTCRAFT - 6.IN THE HOUR OF THE THORNS (unreleased intro track from 2016), 7.DEATHCRAFT AND NECROMANCY (unreleased track recorded in 2007/2016), 8.BLACKWINGED MESSIAH (previously only released on 7" vinyl, recorded in 2007), 9.BURNT AT HIS ALTAR (unreleased live recording from 2016, taken from the Death is Complete tribute concert), 10.RESURRECTION THROUGH DESECRATION AND CHURCHFIRES (previously only released on 7" vinyl, recorded in 2006), 11. RECRUCIFIXION (unreleased mix from 2009, with re-recorded drums in 2016). odiumrex.com, facebook.com/odiumrex, facebook.com/blackaltar, facebook.com/BeastcraftOfficial
OCCULTUM i HELLSPAWN W OLD TEMPLE!

Najbliższym wydawnictwem w Old Temple będzie premierowy album Toruńskiej hordy OCCULTUM powstałej na gruzach Amarok. Towards Eternal Chaos to siedem hymnów satanistycznego i bluźnierczego black metalu w klasycznym stylu. oldtemple.bandcamp.com/album/occultum-towards-eternal-chaos


HELLSPAWN swój trzeci album wyda w Old Temple ! Jeszcze tej zimy ukaże się There Has Never Been A Son Of Me pokazujący nowe oblicze zespołu. Dziesięć death metalowych autorskich utworów kontestuje mitologie chrześcijańską oraz jej dogmaty. Więcej szczegółów wkrótce. www.oldtemple.com/
NOWOŚCI Z DEFORMEATHING PRODUCTION!


Do wytwórni z Suchej Beskidzkiej dołączył chełmsko/lubelski STRAIGHT HATE. Zespół jest w trakcie ostatnich szlifów materiału na debiutancki CD, który zostanie nagrany na początku roku 2016. Premiera płyty na wiosnę.




Od grudnia dostępna jest już najnowsza pozycja w katalogu DP - "autoe'ROT'icism / Engulf The Decrepitude" zawierające legendardny materiał nagrany przez EPITOME, który przed dwiema dekadami kształtował scenę choregO i brutalnego grindu. W ramach bonusu znajdziecie tu także pierwsze demo zespołu. Wydawnictwo dostępne jest w kilku formatach (MC/CD/LP). Najwięksi maniacy mogą również zaopatrzyć się w zestaw z koszulką. Szczegóły znajdziecie na stronie labela: deformeathing.com